Media

  SPORTS LICENSING AND TAILGATE SHOW                            January 19-21, 2022  
         LAS VEGAS CONVENTION CENTER                                     LAS VEGAS, NV
BBQ Shape N' Scrape
Whitby, On
Canada                                                    https://adjustablebbqscraper.com/
Adjustable BBQ scraper going to Las Vegas
A local inventor is seeing continued success with her adjustable BBQ scraper product called the BBQ Shape n' Scrape (TM) which will be featured at a booth at the Sports Licensing and Tailgate Show in Las Vegas in January.
North Grenville resident Irma Duguay first conceived of the adjustable scraper after experiencing first-hand the danger that can be caused by regular BBQ scrapers which can break apart and leave metal bristles in food. Her product does not use bristles but is instead made of wood with an adjustable shape that instantly fits the profile of the grill being cleaned. It took Irma over a year to design the scraper, as she tried out many designs and tried to improve on all of the negative aspects of traditional scrapers.
The Times reached out to Irma for more information on the significance of the product's inclusion at the upcoming Sports Licensing and Tailgate Show. Irma revealed that the Las Vegas show is strictly for retailers and sports marketing firms, and is not open to the public. It is a very large event where approximately $20 million worth of deals were brokered last year. Irma is hoping that the show produces deals on the sports marketing side, meaning that her BBQ scraper would be used as a promotional tool by sports leagues such as the NHL. To demonstrate just how lucrative the show is, Irma revealed that a booth usually costs about $20,000 USD, which is considered reasonable because retailers are in attendance and are ready to buy.
The inclusion in the show is only the most recent in a string of important milestones for Irma's invention, which is already available on Amazon.ca, and which Irma anticipates will be available for purchase in retail stores in the coming years. However, the industry is not without its issues, particularly when it comes to the supply chain. A current energy crisis in China – where the parts for the BBQ Shape n' Scrape (TM) are made – is causing production to slow to a crawl. Irma told the Times that many factories in China are only being allowed to operate for two days per week in order to save energy, with some factories choosing to bear the cost of running generators for power in order to keep products moving. The slow production means that although Irma anticipates brokering deals with retailers such as Walmart at the Las Vegas show, her company will not be fulfilling those orders until 2023.
Irma is very proud of the success of her product, and it is clear that she is dedicated to getting her invention out into the world. She largely credits PA Marketing with the success of her business. "Basically, they handle everything from sourcing, overseeing manufacturing, factory audits, procurement, logistics, storage capacity and final distribution of the finished product. After several conference calls with PA Marketing, we had a sales agreement signed and our journey/partnership began." Irma told the Times. "This is really an exciting time for me. I couldn't be happier. I hope my story inspires anyone who has a dream!"
More information about Irma and her journey can be learned by visiting her website at https://adjustablebbqscraper.com/pages/my-story. For those interested in learning more about the Sports Licensing and Tailgate Show, information can be found at https://sportstailgateshow.com/.
         
---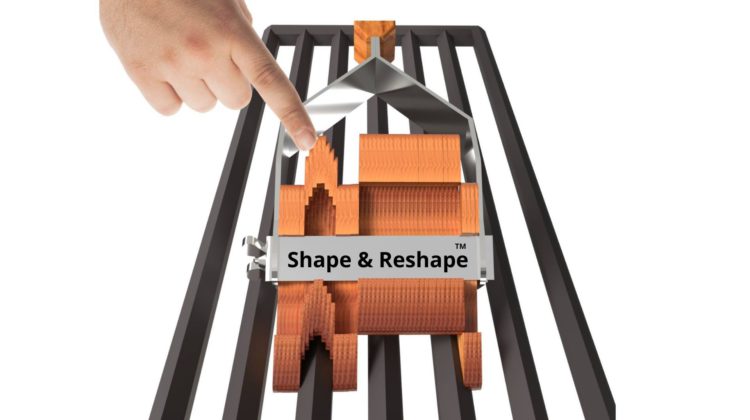 A Kemptville entrepreneur is seeking to change the way we clean our barbecues. 
Irma Duguay is the founder and inventor of a new, bristle-free, adjustable BBQ scraper, known as the "BBQ Shape n' Scrape", which allows you to quickly duplicate your exact grill grate profile using individual blades, resulting in a scraper that fits like a glove. 
Duguay says after learning of the dangers of wire bristles snapping off from BBQ brushes and possibly being ingested, she decided to take action. 
"After three years of prototypes and sourcing manufacturers, I've accomplished what I set out to do," Duguay said. "It was a long journey, but it was a journey that was very rewarding." 
Duguay says it was her goal to develop a product that could save a life, and protect someone from ingesting a wire bristle left on a grill grate.
She says from the very beginning of her journey, she knew it would be a significant challenge.
"We just got approval for a patent in Canada, and three weeks ago I got the patent from the U.S.," Duguay said. "It's very exciting, it's been a long road, and I'm just really happy." 
Duguay says if you have similar concerns about grill safety, the "Shape n' Scrape' may be just what you need. 
To learn more about the scraper, you can head here. 
A North Grenville resident has created an innovative new product that is sure to help out this BBQ season.
Irma Duguay was inspired to design the BBQ Shape n' Scrape while she was cleaning her BBQ one afternoon in August 2018. She was using a typical BBQ brush with metal bristles, and she noticed that one had fallen off and onto the grill. "I had heard about the wire bristles becoming loose and snapping off and possibly being ingested and I thought – that's not going to happen to me," she says. "Well, it did."
Irma searched far and wide for another option but all she could find was more wire brushes. Instead of giving up, she decided to try her hand at designing an alternative. Having retired from the high-tech industry in 2017, she had no experience in product development and had to teach herself 3D Computer Aided Design (CAD) software, 3D modeling and rendering, how to source suppliers and more. She also did a lot of research into other BBQ brushes and scrapers by reading complaints and reviews on Amazon. "What I did was try to take all of the negativity and incorporate and try to improve on that in my design," she says. It took her over a year to design the scraper and she tested out many different prototypes before she felt like it was ready for market.
The BBQ Shape n' Scrape is made out of a stainless-steel frame with adjustable wood blades. This allows the blades to slide back and forth to fit the exact profile of the grill that needs to be cleaned. "Instantly it fits like a glove," Irma says. "You don't have to buy the brush, it's just a different alternative."
Irma is sourcing the frame for the scraper from a company in Brampton, ON and the blades are being manufactured and sent to her from China. She received her first shipment of parts in October 2020 and immediately started the assembly process. She was a bit nervous about sourcing the parts from different companies, but built a close relationship with her suppliers and was relieved when they fit together perfectly. "I'm so proud of it," she says. "I look at it and say – I can't believe I did this. It's quite an achievement. Sometimes I have to pinch myself to see if it's real."
The BBQ Shape n' Scrape has been patented in Canada and the U.S. and Irma has been contacted by Hudson's Bay in Kingston who is interested in carrying it. She has already sold about 100 units and has enough parts for about 800 more, which she will be assembling and shipping from her home. The scraper is available for purchase through the website, www.adjustablebbqscraper.com, or on Amazon.ca. "It's a really great gift for Father's Day," she says.